MADALENA ALVES and MANUEL JOÃO COSTA
Making classes more interactive with Team Based Learning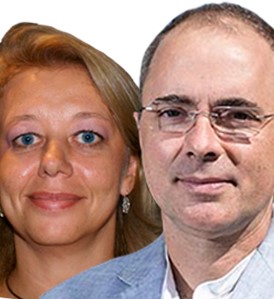 Madalena Alves is a Chemical Engineer from FEUP (1987) and Master in Biotechnology from IST (1992). She joined the University of Minho as a trainee assistant in 1988 and has been a full professor in the Department of Biological Engineering of the same University since 2013. Among others, she is Professor of Chemical Reaction Engineering I of the Biological Engineering MSc at UMinho where she implemented the Team-Based Learning methodology in the academic year 2020/21 in remote mode.

For her work in the area of anaerobic digestion of complex effluents, she has received several awards throughout her career including the Lettinga Award, the BES Innovation Award and the National Environmental Innovation Award. She was also awarded the degree of Doctor Honoris Causa by the Technical University of IASI, Romania.

She directs the research group BRIDGE -Biorecourses, Bioremediation and Biorefinery where she develops biotechnological processes for energy and environmental transition. She is Director of the Center for Biological Engineering at the University of Minho and the New Associated Laboratory in Bio/Chemistry/Micro-Nano/Electromechanical Technology (AL4Tech). She is representative of the Portuguese Government in the Council of the INL- International Nanotechnology Laboratory.
Manuel Joao Costa is currently Pro-Rector for Educational Innovation and Student Affairs, at the University of Minho.
He is Associate Professor and former Head of the Medical Education Unit (2004-2018) at the School of Medicine, University of Minho.
Manuel does research in Teaching Methods, Science Education and Higher Education.
His primary research areas are medical education and biochemistry and molecular biology education.